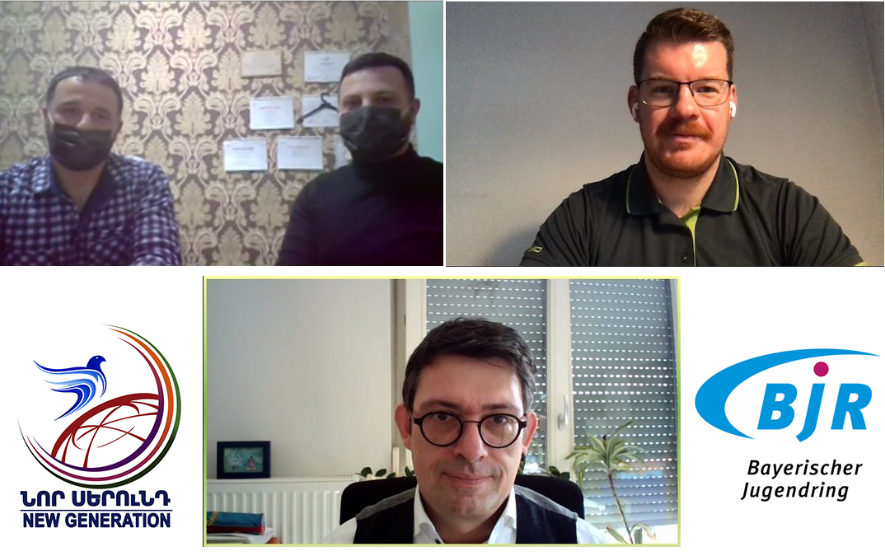 Armenian-Bavarian cooperation is based on strong grounds
On November 14, 2020, Sergey Gabrielyan, the president of New Generation Humanitarian NGO (NGNGO), Matthias Fuck, the president of Bavarian Youth Council (BJR) as well as employees of the two organizations, Arman Sahakyan and Patrick Wolf, had an online meeting within the framework of a video conference.
In a video conference, the president of BJR, Matthias Fack, expressed his solidarity towards Sergei Gabrielian and Arman Sahakyan as representatives of the partner organization New Generation NGO. He is concerned about the violent escalations in the region. The cease-fire that has now been agreed upon is a first important step toward a peaceful solution in the region, he said. Young people would suffer most from the state of war.
Furthermore, and despite the challenging situation in Armenia, the two organizations pledge to work together strategically and in partnership. Already in the cooperation agreement of July 2018, BJR and NGNGO have committed themselves the priorities of intercultural exchange and support of peace and understanding. Through joint projects on human rights and democracy education, both organizations want to work towards a youth-friendly society.
At the end of the meeting, the representatives of both organizations used the importance of not only partnership, but also warm friendly relations in development and implementation of joint programs.