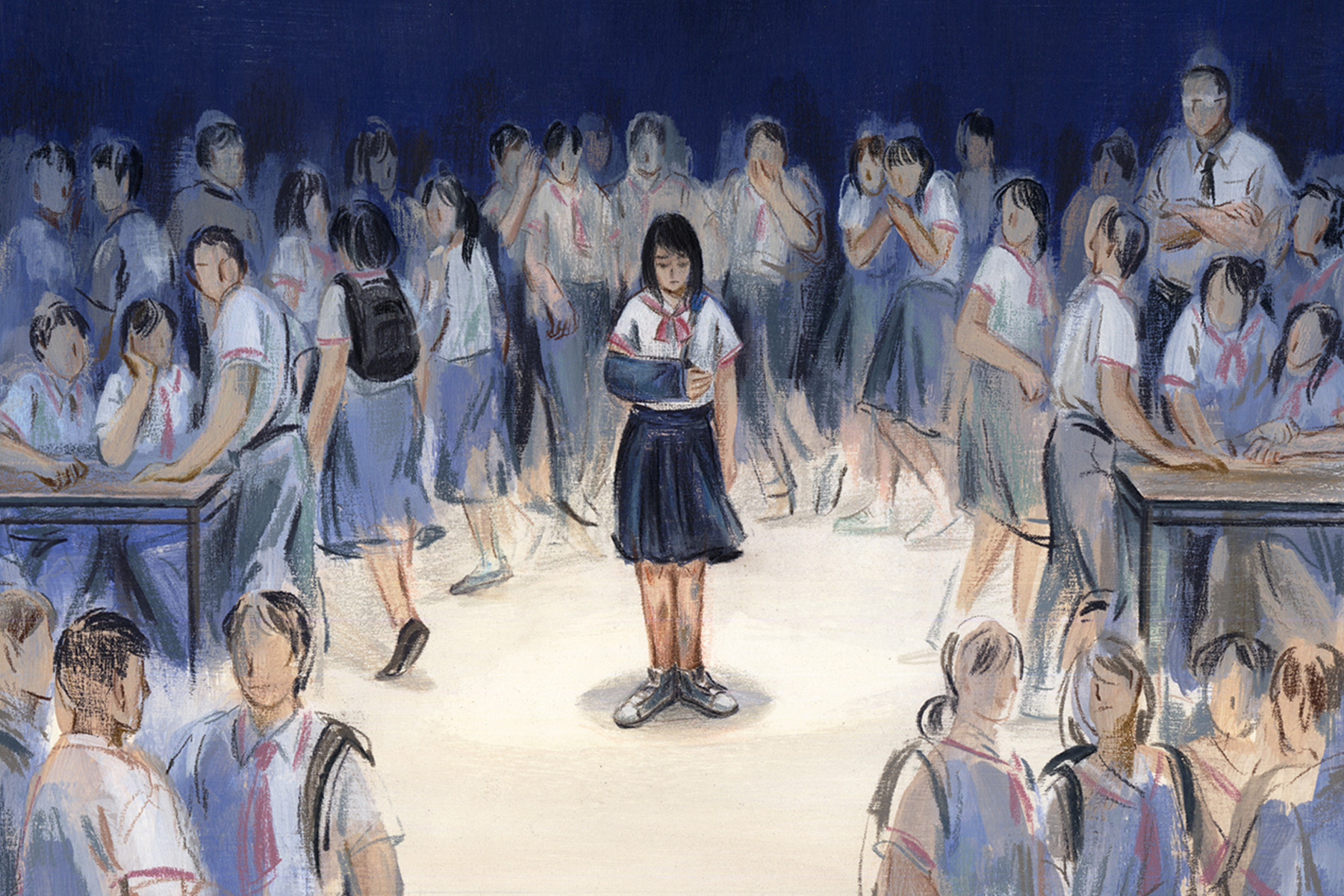 LIFE OF LGBTI PEOPLE IN ARMENIAN SCHOOLS. part2
Read the first part HERE
Discrimination Against LGBTI Children As A Result Of Flawed Organization Of Human Rights And Sex Education
Discrimination, hatred, and violence against LGBTI children in Armenian schools are viewed by experts as a result of an ineffective organization of human rights and sex education.
According to Goharik Tigranyan, a human rights education expert, the school has not fulfilled its duty of educating citizens for years. The task of awakening civil and legal awareness among children was carried out by civil society when it was the responsibility of the state.
Human rights education has been included in school curricula since the 1990s, first, it was called "Human Rights", then "State and Law", which in 2007 was replaced by "Sociology".
"The subject should be entirely aimed at developing tolerance, equality, elimination of discrimination,  development of individuals as citizens, and all the other skills needed to enter the society. However, the teaching of the subject does not serve its purpose in practice, "says G. Tigranyan and singles out the reasons.
"As such, there are no "Social Science" teachers in Armenia, other professionals of "History", "Church History", "Chemistry", "Physics" etc. teach that subject in schools. There have even been cases when the teachers instead of teaching that subject preferred to teach the subject they are specialized in, but in the registry book they would add that they have taught "Social Science". Yerevan State Pedagogical University started its "Social Science" faculty in 2015-2016 to train relevant teachers with a bachelor's degree. However, in schools, the hours allocated for that subject are very few, for example, there are only 2 lessons in middle school and 1 in high school.
"How should working as a part-time teacher motivate graduates to teach "Social Science "in schools?" my interviewer wonders.
According to G.Tigranyan, it is problematic that the continuousness of human rights education  is not ensured in schools. The students learn "Human Rights" in the 9th grade and the connection is cut in the 10th grade, and then they study "Law Science" in the 11th grade. In the 9th grade, the topics are presented in a slightly more accessible way, practical tasks are included, but in the 11th grade, the science of law is introduced to children. Moreover, there are no dictionaries in the textbook, the terms are not explained. These complex texts taken from professional books are not even understood by the teachers who teach the subject, as their qualification training is not properly organized.
"The textbook is the first link to education for children. If the formulations are complex, it is naturally difficult to grasp the knowledge, moreover, the value system underlying human rights – dignity, equality, anti-discrimination – is not presented, and the delivery of the material is artificial. Children may theoretically learn what the rules of coexistence are, but in practice, they do not understand that human rights are the very rules of coexistence given in the legal field. The right-need combination is not presented or explained.
 "I think it is not surprising why the part of legal education remains open or incomplete when an individual or citizen is formed," the expert is concerned.
An important part of education is sex education. Sex education provides accurate information about sexuality, sexual health, and reproduction,  taking into account the age-appropriate and cultural characteristics. In addition to accurate information, it also conveys several important values such as love, care, harmony, body immunity, and the ability to navigate different life situations. Many countries have adopted a comprehensive approach to sex education, which conveys not only the information but also those values, which are very important in terms of personal development and building healthy relationships. With this approach, the education teaches what potential values ​​there are, how one can orient oneself in different life situations, and make the right choices.
"The World Health Organization's standards accurately note what kind of information children of what age should know. For example, at the age of 11-12, they should already know what sexual orientation is, what gender identity is, which are not considered as a disease. It is a proven fact. "In countries where there is sex education, there are fewer cases of unwanted pregnancies, fewer cases of sexually transmitted infections and cases of sexual violence," says Anush Poghosyan, psychologist, sexual and reproductive health expert.
According to A.Poghosyan, the fact that sex education among children has never been organized in Armenia is worrying. "Healthy Lifestyle" classes, which are included in the subject "Physical Education", have been piloted since 2008. In other words, it was not a separate subject, it was just lessons that were attached to the subject "Physical Education" in grades 8 to 11. The children could not exercise due to the cold weather in January-February,. Therefore, they considered it practical to replace those "Physical education" lessons with "Healthy Lifestyle" topics, which were 14 lessons in total. 7 lessons were on reproductive health. The other 7 lessons focused on the harmful effects of tobacco, alcohol, and drugs.
"In such a situation, we can not talk about sex education at all, especially comprehensive sex education. First of all, these topics are taught by physical education teachers who are not specialists in the topic, and qualification trainings for those specialists are carried out infrequently. This is already a serious problem. In practice, there are cases when the physical education teacher is not ready to talk about sex education, and the students, in their turn, are constrained. The consequence is that reproductive health issues are skipped. That is, that knowledge, as part of school education, is not valued, not even assessed separately. What's more the topics of sex education, reproductive health are taught incompletely whereas sexually transmitted infections are discussed in great detail. "How justified is it to explain syphilis, HIV / AIDS to children at that age in that depth?" Poghosyan says.
Manuals of "Healthy Lifestyle" subject were last modified about 2 years ago. Although the changes were not based on comprehensive sex education,  however according to the expert, they showed a positive trend, for example, they included topics on puberty and contraception, but the teachers were again "Physical Education" teachers.
"We can succeed in the issue of sex education and upbringing of children only if it is introduced in school curricula as a separate subject and taught by a trained specialist," Anush Poghosyan concludes.
People subjected to discrimination based on sexual orientation and gender identity don't have measures for legal protection:
The problem is that discrimination, hatred, and violence against LGBTI children hinder the realization of the right to education of LGBTI children, but the domestic legislation of the Republic of Armenia does not provide the necessary protection due to the lack of legal mechanisms.
In 2018, the RA Ministry of Justice drafted the RA Law on Ensuring Equality, which is still in circulation and has not been adopted.
However, according to Shushan Khnkoyan, New Generation Humanitarian NGO lawyer, the draft does not meet international standards for anti-discrimination legislation, as the draft does not include sexual orientation and gender identity as  protected grounds  from  discrimination.
As of the assertion that the RA Constitution and domestic legislation contain provisions prohibiting discrimination, Sh. Khnkoyan counters, "These provisions do not provide legal protection mechanisms based on sexual orientation and gender identity. "If, for example, a person is abused because of their sexual orientation or gender identity, they can seek protection only on the grounds of being abused."
According to domestic legal regulations, the interrogation of a victim under the age of sixteen is carried out with the participation of a pedagogue. The legal interests of the juvenile participant are represented during the criminal proceedings by his / her legal representatives – parents, adoptive parents, guardians, or trustees.
According to Sh. Khnkoyan this circumstance, , again causes problems in terms of legal protection as very often juveniles do not want to tell their parents about their sexual orientation to avoid possible domestic violence.
"Our organization has had such a case. The child did not want to go to school because his sexual orientation was revealed, as a result of which he was discriminated against. However, the organization could not apply for legal proceedings for this and many other similar cases because the children did not want to. They feared double discrimination. The solution was that they just changed their school, "Sh. Khnkoyan brings this example from practice.
Thus, schools are not a safe place for LGBTI children. Meanwhile, LGBTI children would have carefree and happy schooling if their rights were protected by law if the state showed political will to recognize and protect those rights if the school did not fail in its duty of educating citizens … problems, the solution of which, unfortunately, is still unrealistic in Armenia.
Nare Hovhannisyan
The compilation and publication of this material has become possible within the framework of the project on Capacity Building and Empowerment for Protection of LGBTI Human Rights in Armenia implemented by New Generation Humanitarian NGO with the financial support of the Norwegian Helsinki Committee. The contents of this article are the sole responsibility of the author, and do not necessarily reflect the views of New Generation Humanitarian NGO or the Norwegian Helsinki Committee.