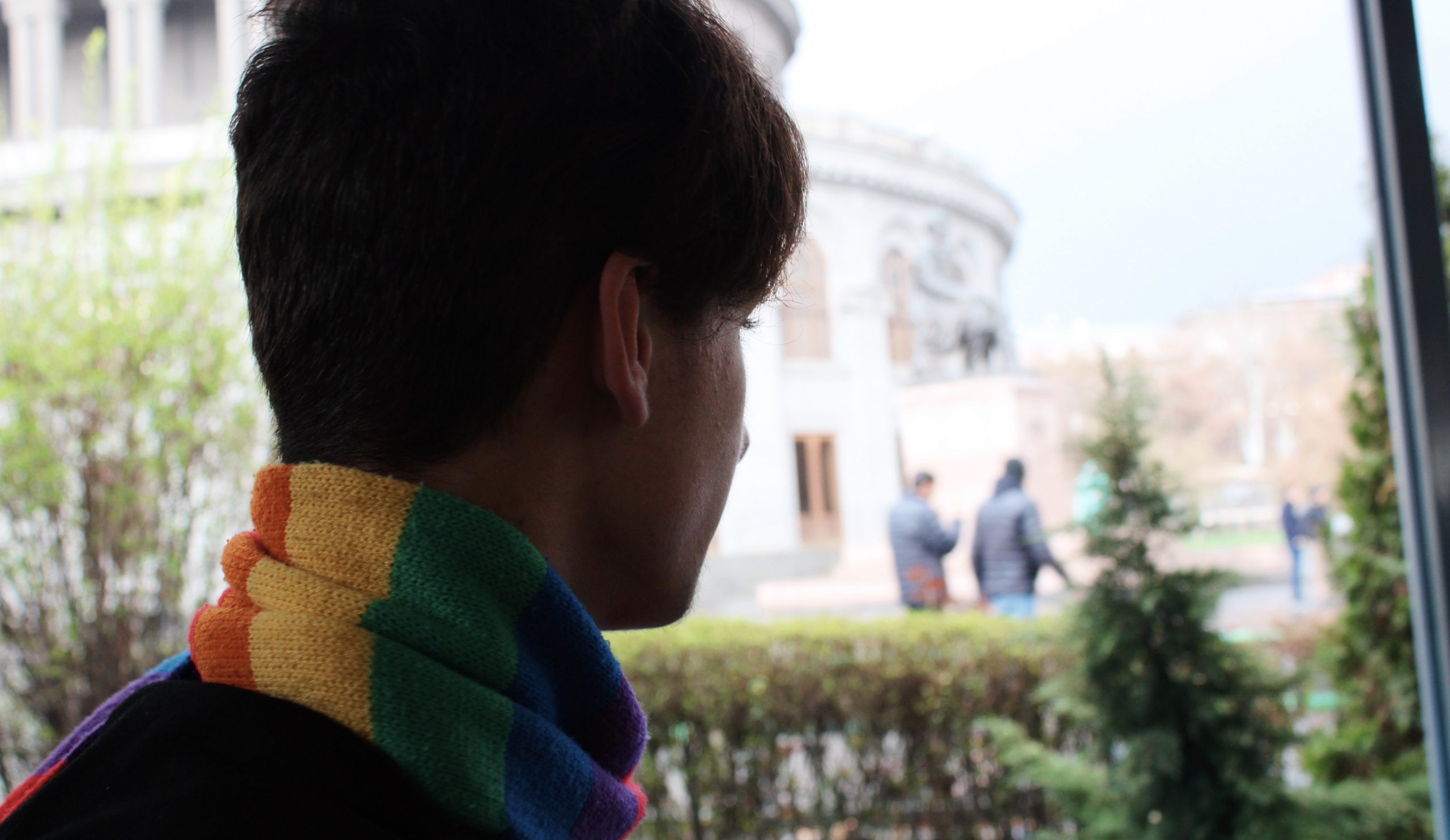 The life of gay people in Armenia. Part 1
We couldn't get in touch with Artak earlier: he just left the police station and is going home. It was the first day of facing the four guys, one of which stabbed Artak in the back last summer near the Republic Square and before people would gather around Artak, he ran away, as they always do. 
Artak tells:
"I had just got back from abroad and I was meeting my friends. It was a hot day and I had a hat on but you could still see my long hair under it. My friend also had long, yellow hair. We were having a conversation when a few guys passed by us. They looked at us in a certain way and we heard them make some unpleasant comments about our hairstyles. I felt that their behavior was not adequate because even from a distance we could hear their loud, weird laugh. So, we replied to them with a few words and entered the VivaCell* store to do what we were going to do. One of the guys called me out saying that he had something to tell me, I went out and they started to beat me. My friends tried to help me but they also got beaten and when people started to help us, the guys ran away. I felt a sharp pain in my shoulder and noticed that I was bleeding. And the reason for all of this is just because of a hairstyle."
This was the first time Artak experienced an incident like this, but the discrimination based on his physical appearance and sexual orientation was not new to him at all. 
"Wherever I wanted to get a job, they told me to get a haircut, and I was like 'Goodbye'. At last, I got a job in the "Loft Room" cafe as a waiter but they still didn't like my hair. They just hired me because they needed a waiter", Artak says. 
After a long search, Artak decided to become self-employed and he founded a peace-building NGO, which was aimed to connect the minority groups in Armenia. 
In a few years, Artak sees himself as an active, successful advocate for human rights, but for this, he needs a good education, which is not easy to obtain. 
"I don't know where to start. I was in my third year of study at the Yerevan Regional State College No.2, nobody would sit next to me. They would discuss my hair all the time during the classes. Even now when I study at a university, I prefer not to attend the classes, because who likes hearing mockeries?", Artak says. 
He hasn't served in the army and got a military deferment:
"It was during the last medical examination. I entered the room and a high-ranking officer threw my folder of documents at my face and started cursing me and my parents. Even before entering the room, I heard him call me a 'faggot'. The officer told me that he was sure there wouldn't be someone like me from his city. Of course, later I contacted the police and the Attorney General's office, and that person got fired. However, the case got terminated because of the absence of witnesses, even though there were about 15 people in the room. After that, I applied to the military police, and when I got rejected there too, to the Court of First Instance Jurisdiction and, if necessary, I am willing to go all the way to the ECHR (European Court of Human Rights)." 
Artak is not the only one with this kind of story. If there were to be written other stories they all would have been written having intolerance and its consequences within their cores. These stories confirm that the attitude of people towards LGBT individuals in Armenia is not always certain. It is, in fact, in most cases negative. 
During the last couple of years the "New Generation" Humanitarian NGO has enlisted multiple cases of discrimination and violence based on sexual orientation and gender identity, provided support, and contributed to raising awareness on different related issues thereby reducing the future risks.   
Read the second part here
Rima Grigoryan
*VivaCell – Mobile Network Operator in Armenia
The compilation and publication of this material has become possible within the framework of the project on Capacity Building and Empowerment for Protection of LGBTI Human Rights in Armenia implemented by New Generation Humanitarian NGO with the financial support of the Norwegian Helsinki Committee. The contents of this article are the sole responsibility of the author, and do not necessarily reflect the views of New Generation Humanitarian NGO or the Norwegian Helsinki Committee.