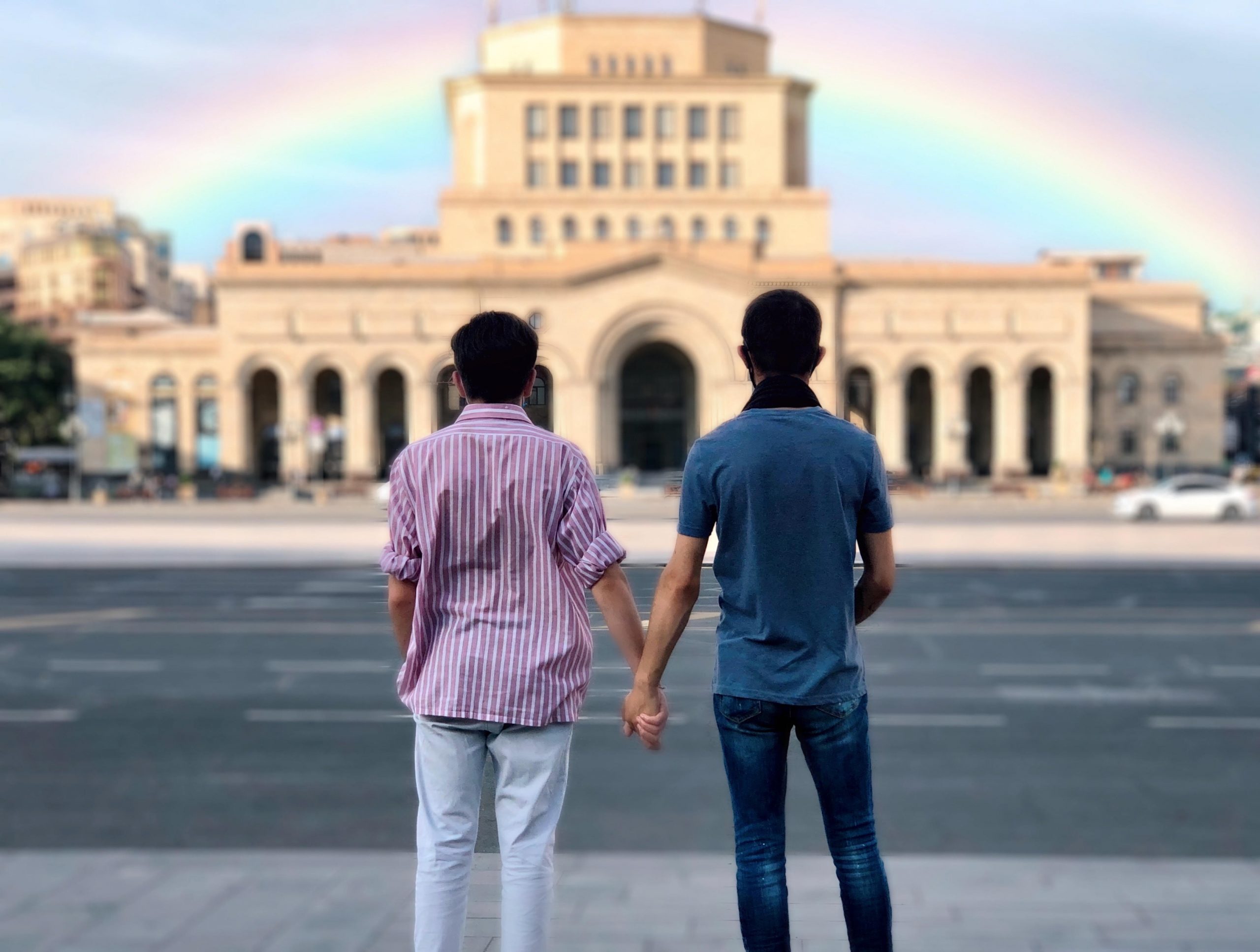 THE LIFE OF GAY PEOPLE IN ARMENIA. PART 2
Read the first part here
During the last couple of years the "New Generation" Humanitarian NGO has enlisted multiple cases of discrimination and violence based on sexual orientation and gender identity, provided support and contributed to raising awareness about different related issues thereby reducing the future risks.
Samvel (the name has been changed by his request) has been working as a waiter for already 5-6 years. It is hard for him to remember how many workplaces he had to change to get there. He has a profession as well, but since his education is vocational, he hasn't been able to find a job with his profession. 
In the college, where he studied, he was known as someone who dresses differently. This by itself was already enough for getting problems and different kinds of looks from people.
"I remember not wearing the standard black pants. Instead, I would wear ripped jeans with sneakers and long blouses and this was an opportunity for the guys to start fights with me", Samvel tells.  
Telling his family about his sexual orientation was not easy, especially when it was followed by a bunch of acts of violence:
"I was about 16-17, when I told my parents about my sexual orientation. They beat me, locked me in the room and didn't let me go to work until my employer called my dad and convinced him. Even now, despite all the time that has passed, they still don't believe that I am gay. They just think that I am surrounded by bad people."
To avoid constantly rising obstacles, he has the problem of having to hide his sexual orientation and even in this case, the issues somehow have the ability to find Samvel. He tells:
"I participated in an LGBT event some time ago and my cousin learned about that later. He threatened me that he was going to out me. It turned out that the security worker of the event was his friend and told him he had seen me in the event. I had to threaten both of them by saying that I would file reports against them in the police just so that they would leave me alone."
Samvel's personal life has been discussed and criticized a lot by his family members but he has found a way to partially avoid it: he gives them money. He pays just to be able to live his personal life. 
"It's not that I earn a lot, but I give them 2000, 3000 and sometimes even 5000 drams. And now (during the days of quarantine because of COVID19) that I don't work, I get financial support, a part of which I save to give to the family", he says. 
It is not easy for Samvel to live in Armenia, he has a problem of feeling safe. He always takes a weapon of self-defense whenever he leaves the house: you never know when and who you will come across.


He tells: 
"A few days ago my friends and I went out to buy food. When we were crossing the street, there were two boys standing, one of which threw a used tissue on me. While I was trying to figure out why he did that, I saw him take a knife out of his pocket. I started talking more to give time to my friend to take out the electroshock out of his backpack. When they saw it, they backed off and we went away quickly."
To have your family's trust and support, when you need it the most is priceless. It is possible to achieve that, but not always.
Read the third part here
Rima Grigoryan
The compilation and publication of this material has become possible within the framework of the project on Capacity Building and Empowerment for Protection of LGBTI Human Rights in Armenia implemented by New Generation Humanitarian NGO with the financial support of the Norwegian Helsinki Committee. The contents of this article are the sole responsibility of the author, and do not necessarily reflect the views of New Generation Humanitarian NGO or the Norwegian Helsinki Committee.