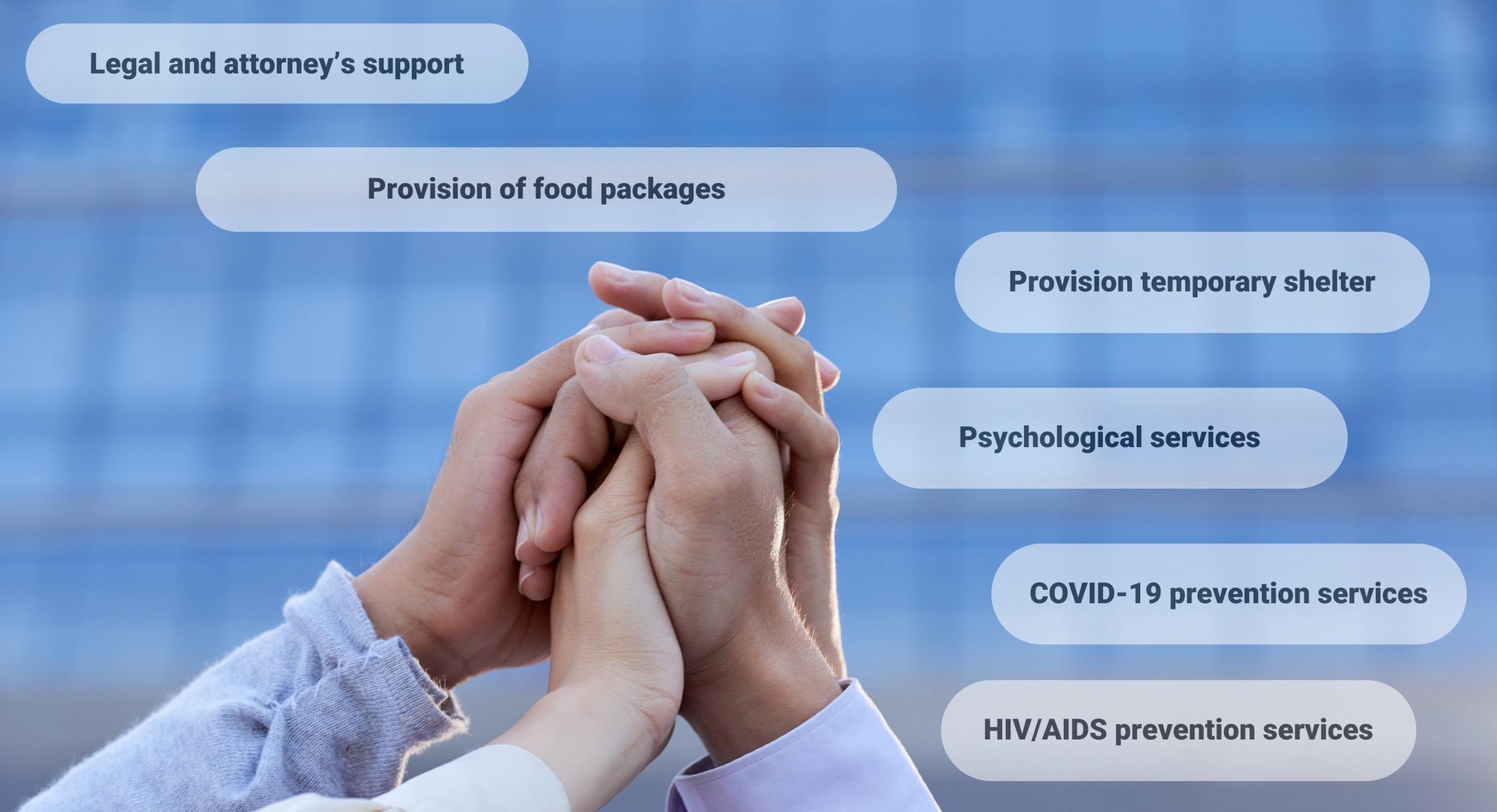 NGNGO provides social assistance to migrants, refugees, asylum seekers, returnees from Ukraine, Russia and Belarus
New Generation Humanitarian NGO offers social assistance to LGBT+ refugees, asylum seekers, IDPs and returnees who have migrated to Armenia from Russia, Ukraine and Belarus due to the war situation and related political and non-political repressions, econimic and other related difficulties in the mentioned countries. 
The following services are available within the assistance։
1. Legal and attorney's support:
– Legal consultation, support with documents,
– Attorney's services, judicial representation. 
2. Provision of food and temporary shelter to persons who have been exposed to 
– Stigma and discrimination, 
– Torture,   
– Violence,  
– Due to the above and other circumstances, they have appeared in socially difficult situation without a source of income, means of livelihood and place of residence. 
3. Requalification courses
– Based on the beneficiary's needs/request. 
4. HIV prevention services/AIDS 
– Pre- and post-test consultation on HIV and AIDS,  
– HIV testing with oral mucosal transudate and blood,  
– Pre- and post-exposure prophylaxis for HIV,  
– Provision of condoms and lubricants,  
– Screening and treatment of STIs,
– Screening for HCV and HBV,
-COVID-19 prevention materials, referral for vaccination
– If necessary, referral to relevant medical institutions. 
5. Psychological services․ 
– Consultation. 
You can apply for the above-mentioned assistance programs by filling out the following APPLICATION form and selecting the relevant service/assistance. 
                                                     *******************************************************
Гуманитарная НПО "Новое Поколение" предлагает социальную помощь ЛГБТ+ мигрантам, беженцам, просителям убежища, репатриантам, переехавшим в Армению из Украины, России, Беларуси  из-за военной ситуации и связанными с ней политических, неполитических репрессий, экономических и других сопутствующих  трудностей  в указанных странах.
В рамках поддержки доступны следующие услуги:
1. Юридическая и адвокатская поддержка:
– Составление юридических документов, юридическая консультация, 
– Услуги адвоката, судебное представительство. 
2. Предоставление продуктовых наборов, временного жилья лицам, подвергшимся
– Стигматизации и дискриминации, 
– Пыткам, 
– Насилию, 
– В связи с указанными или другими обстоятельствами, оказавшимся в социально-тяжелом положении без источников дохода, средств к существованию и места жительства. 
3. Психологические услуги:
– Консультация. 
4. Реквалификационные курсы
– На основании потребностей/запроса бенефициара.
5. Услуги по профилактике ВИЧ/СПИДа
– Предтестовая и послетестовая консультация о ВИЧ и СПИД, 
– Тестирование на ВИЧ с помощью транссудатa слизистой оболочки полости рта и/или крови, 
– До- и пост-контактная профилактика ВИЧ, 
– Предоставление презервативов и лубрикантов, 
– Тестирование и лечение ИППП,
– Тестирование на Гепатиты B и C,
–Материалы по профилактике COVID-19, направление на вакцинацию
– При необходимости направление в соответствующие медицинские учреждения.
Для подачи заявок на вышеперечисленные услуги, можете заполнить следующую форму, из списка выбирая необходимую вам услугу/помощь.