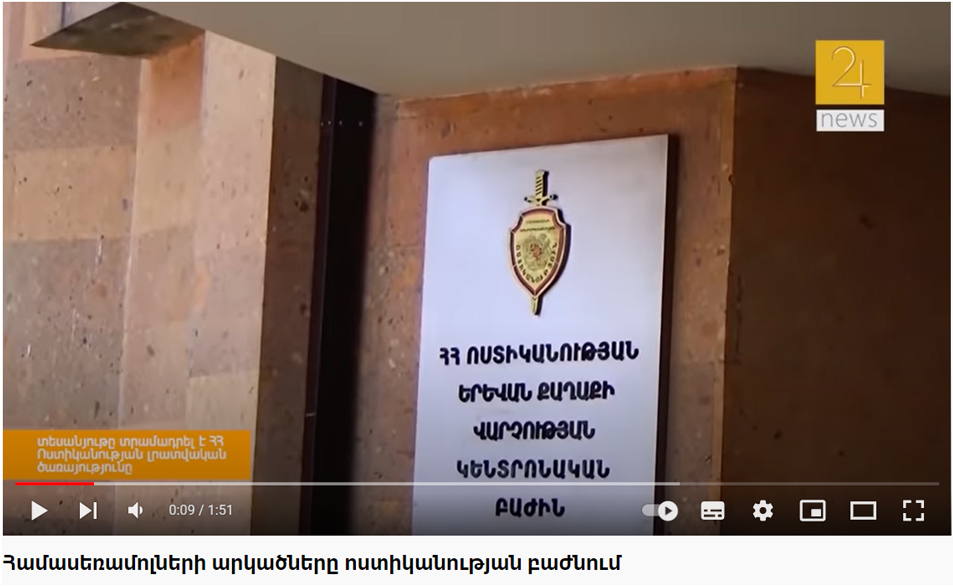 THE REMOVAL OF THE VIDEO ON 24TV YOUTUBE CHANEL TO BE DISCUSSED BY PERSONAL DATA PROTECTION AGENCY
On March 2, 2022, NGNGO applied to "24 News" LLC in written form, asking to immediately remove the video titled "The Adventures of Homosexuals at the Police Department" from the official YouTube channel "24 TV". The video was provided to the media by the press service of the RA Police. . 
The video shows the faces of the persons accused of the alleged crime, which violates a number of their rights enshrined in the Constitution. 
The letter was sent to "24 News" LLC both by email and electronically. However, the video was not removed from the official YouTube channel "24 TV" belonging to the LLC. 
The organization wrote a letter to the RA Ombudsman on May 11, 2022, asking to instruct to take appropriate actions to remove the video. 
On June 16, 2022, the Ombudsman's Office informed in writing that a decision had been made to transfer the complaint to the Personal Data Protection Agency of the Ministry of Justice of the Republic of Armenia, at the same time instructing to follow up on the discussion of the issue. 
Back in 2018, a video was posted on the official page of the RA Police with the caption "Women at first sight, but in reality men in girl clothes and their supporters broke into the police station", which referred to the same case. The video was removed from the police page as a result of cooperation between the NGNGO and the Office of the Human Rights Defender (Ombudsman) of the Republic of Armenia. 
New Generation Humanitarian NGO finds that due to the availability of the video, the right to privacy of a group of people continues to be violated. The organization will pursue the solution of the issue of video removal. 
Clarification 
Article 31 of RA Constitution 
Everyone shall have the right to inviolability of his or her private and family life, honour and good reputation. 
The right to inviolability of private and family life may be restricted only by law, for the purpose of state security, economic welfare of the country, preventing or disclosing crimes, protecting public order, health and morals or the basic rights and freedoms of others. 
 Article 66 of RA Constitution 
Anyone charged with a crime shall be presumed innocent until proven guilty as prescribed by law, upon  
criminal judgment of the court entered into legal force.