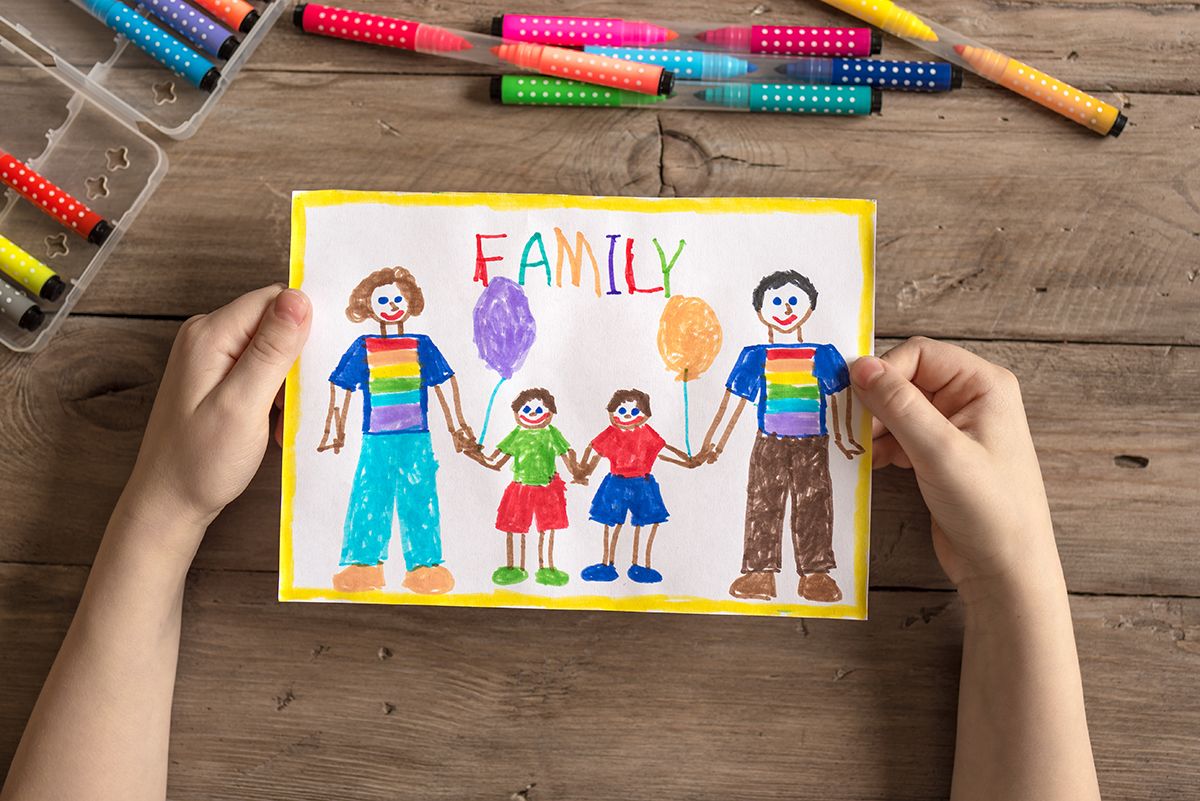 "Should I complain about my father?" The child was beaten by his father
"I had just moved to Armenia with my family for permanent residence. We lived in a village. I was a prominent 14-year-old child with long hair, skinny leather pants, bracelets, rings, and various necklaces. One day in our home we accepted our relatives as guests and I felt that my uncle's 28-year-old friend, Aram, was not indifferent to me. He even offered to go for a walk. I refused," says Garik, who is already 23 years old. He remembers that Aram followed him and one day he was returning home from school when he invited him to their house for coffee. "Then he offered to play duraki (editor: a traditional Russian card game) and the loser had to take off their clothes. He was always the winner, I was almost naked, he also took off his clothes, saying that it was hot. "Then he took my hand and led to him, and we had oral sex," says Garik. Then every day Aram came to their house for some reason, and they managed to go to their toilet.
Before he became an adult, Garik was afraid that the secret would be revealed and that he would be "disgraced" in the village. "Let's say I could live somewhere else, I was afraid of my parents, I would rather be ashamed if they said their son was a faggot," says Garik.
Artak was 10 years old when he felt that he liked strong boys of the same age as him. "I wanted to hug them, I kind of fell in love with the boys. The girls were not attractive to me," says Artak. At the age of 13, his mother "caught him in the garage". "I took the key from home, me and 3 boys of my age were engaged in sex. "My mother hit us all with a bucket, whatever she could get her hands on," says Artak. Two people even needed medical intervention.
Artak remembers his father's beating with horror. "He kicked me, took the knife to kill me, said he was happy that I was born a boy, it turns out that I am a girl. That same day I left the house, my body was bruised. "I thought of applying to the police, then I regretted. Should I complain about my father?," says Artak. He stayed at his grandmother's house for a few days, secretly so that his parents would not know, and then tried to arrange his life on his own. Now he is 17 years old, he lives for rent, he works. "Because of my parents' attitude, my life changed, I became homeless, did not go to school, did not get an education," says my interlocutor.
According to Davit Tumasyan, an international expert in the field of child rights protection, lawyer, candidate of legal sciences, associate professor, there are no separate statistics in the Republic of Armenia on what grounds, motives or purposes the cases of domestic violence were committed. "In order to have such information, it will be necessary to carry out a separate study, which will be based on the data available to the RA Police or the RA Investigation Committee. "Of course, I do not rule out the possibility that there have been similar cases in Armenia when the sexual orientation of a child, particularly 16-17-year-olds, has been a basis for violence against them," says David Tumasyan.
According to the expert, there are documented cases in international practice, when parents, knowing about such tendencies in children, tried to "cure" them, even sending them to quacks. "They tried drugs, used psychological influence, even hypnosis, and organized various events for children of other sexual orientations. "Sometimes there have been cases of severe beatings, they have been forbidden to leave the house, to communicate with people around them, with friends who have the same behavior," says D. Tumasyan.
My interlocutor does not rule out that there have been such cases of violence in Armenia as well, but since there are no statistics, he cannot cite a specific case or figure. Shushanik Khnkoyan, the lawyer of New Generation Humanitarian NGO, regrets that most of the violations of the rights of LGBT people took place in families. During 2020-2021, about 33 cases of domestic violence were registered by the NGO. Not all cases were reported.
"Children, being victims of violence and discrimination by their own loved ones, remain unprotected both at the legal-legislative and psychosocial level. "It raises the issue of unhealthy re-socialization, promotes an increase in the number of crimes of a social nature, in some cases even life and health," says the human rights activist.
"We should not also forget about latency, Armenian families try not to raise such issues, to solve them in the family environment," says Davit Tumasyan, Associate Professor of Law. According to him, violence is not the solution to the problem, it is necessary to have an intimate conversation with children.
"I hid my orientation from my family. I am 15 years old, I had sex with 3 men older than me. "I have no feelings for girls," says Sasun, who lives in one of the villages in the Ararat region. He was three years old when his father divorced. "My mother took me and my sister and moved to her father's house, that is, we lived with our grandparents. It's like my parents noticed something. The village boys tried to talk to me by telegram several times. But I was more careful. "I was not caught," says Sasun. The grandfather gave him "house arrest" for several days. Sasun will move to Yerevan in September, he is a student. "I will be left alone for rent. I will feel free without fear. Now I am that person, there will be no change. I am only afraid of the army. "How am I going to hide my inclinations?" Says Sasun.
"As hard as it is to believe that 15-16-year-old boys in Armenia can have a homosexual tendency, but in the case of 18-year-old boys drafted into the army, such behavior is finally revealed," says David Tumasyan.
 According to the expert, those who served in the army will prove that there were cases when information about the recruit's sexual inclinations was spread even the day after the recruit arrived in the military unit, because his surroundings, fellow villagers, classmates, etc., were aware of the person's sexual life and about behavior.
The expert, not ruling out the existence of homosexual tendencies among some 16-17-year-olds, the violence used by their relatives, thinks that additional research is needed. "It is necessary to remember that a child up to 18 years old is every person who is under the special protection of the state. "Solving the child's problems through violence will not be effective on its own. Any violent influence will provoke a reaction from the child," says David Tumasyan.
In order to prevent domestic violence, in 2018 the RA Law on Prevention of Domestic Violence, Protection of Victims of Domestic Violence, Restoration of Family Solidarity was adopted, by which the state is obliged to ensure prevention of domestic violence, protection of victims of domestic violence, protection of their rights and legitimate interests and necessary legal structures. "In terms of reducing the number of cases of domestic violence, the operative response of the law enforcement bodies, the proper implementation of the further process of the case, etc. are very important. "I think in practice the state still has a lot to do," says Shushanik Khnkoyan.
Note: The names of all the heroes in the article have been changed by their wish.
Armen Davtyan
The compilation and publication of this material has become possible within the framework of the project on Capacity Building and Empowerment for Protection of LGBTI Human Rights in Armenia implemented by New Generation Humanitarian NGO with the financial support of the Norwegian Helsinki Committee. The contents of this article are the sole responsibility of the author, and do not necessarily reflect the views of New Generation Humanitarian NGO or the Norwegian Helsinki Committee.