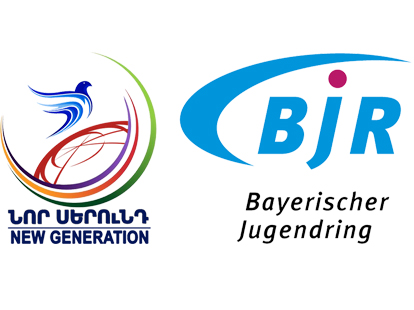 New Generation Humanitarian NGO and Bavarian Youth Council (BJR) continue their cooperation
The cooperation between the Bavarian Youth Council (BJR) and New Generation Humanitarian NGO is already 2 years old, and we are happy to state that the cooperation has been fruitful in the scope of regulation of youth issues.
The goals of the two organizations coincide in terms of active engagement and civic development of the youth.
Within this cooperation that has started since 2018, the main projects include but are not restricted to implementation of youth workers exchange programs, in which representatives of NGOs and informal groups dealing with youth issues in Armenia and Germany are participating.
We can happily note that the project for 2020 has received financial support by the Federal Ministry of International Affairs of the Federal Republic of Germany and it is planned to implement an educational and empowerment exchange projects among CSOs dealing with youth issues on the topic of Democracy Education in September-December this year and small grants for projects addressing the youth issues in communities will be given to the participants of these youth exchange projects.
The first video call took place at the start of the project with participation of Mathias FACK, the president of Bavarian Youth Council, Sergey GABRIELYAN, the president of New Generation Humanitarian NGO, Patrick WOLF, head of the presidential office of BJR, Arman SAHAKYAN, finance manager of NGNGO, Kateryna Kudin, BJR project coordinator.
                                                                                                                                           To be continued…