CALL FOR PARTICIPANTS։ TRAINING FOR REFUGEES, IDPS, AND ASYLUM SEEKERS FROM UKRAINE, RUSSIA AND BELARUS
New Generation Humanitarian NGO invites  refugees, IDPs, and asylum seekers who have moved to Armenia due to the Russian-Ukrainian war, to participate in a capacity building training.
The training is aimed to develop the participants' capacities in career development, NGO establishment, leadership, conflict resolution, financial management and human rights.
The training will take place on July 27-28, 2023.
The training topics are:
Career development

Establishing NGOs

Leadership

Conflict resolution

Financial management

Human Rights, protection mechanisms
The training will also include discussion platforms on topics related to healthcare and human rights, with the participation of invited experts of field.
During the training, the participants will be provided with theoretical and practical knowledge, necessary literature, as well as practical assignments and advice.
The working language of the training is Russian.
Participation in the training is free of charge.
How to apply?
To participate, please complete the Application form by July 25, 2023.
The selected participants will be sent an official invitation and information pack.
Набор участников։ Тренинг для беженцев,переселенцев, искателей убежища из Украины, России и Беларуси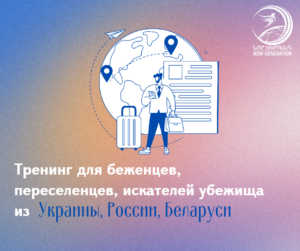 Гуманитарная НПО «Новое Поколение» приглашает беженцев, переселенцев, искателей убежища из Украины, России и Беларуси, переехавших в Армению из-за российско-украинской войны, принять участие в тренинге по развитию потенциала.
Цель:
Развитие потенциала участников по следующим темам:
Развитие карьеры

Создание НПО

Лидерство

Преодоление конфликтов

Финансовый менеджмент

Права человека, механизмы защиты
Тренинг также будет включать  дискуссионные площадки по темам, связанным со здравоохранением и правом, с участием приглашенных экспертов.
В результате тренинга участники получат теоретические и практические знания, необходимую литературу, а также практические задания и консультацию.
Рабочий язык тренинга– русский.
Участие в тренинге бесплатно.
Тренинг состоится 27-28-го июля, 2023 года.
Как подать заявку?
Для участия необходимо заполнить следующую ФОРМУ ЗАЯВКИ до 25-го июля 2023 года.
Отобранным участникам будет отправлено официальное приглашение и информационный пакет.