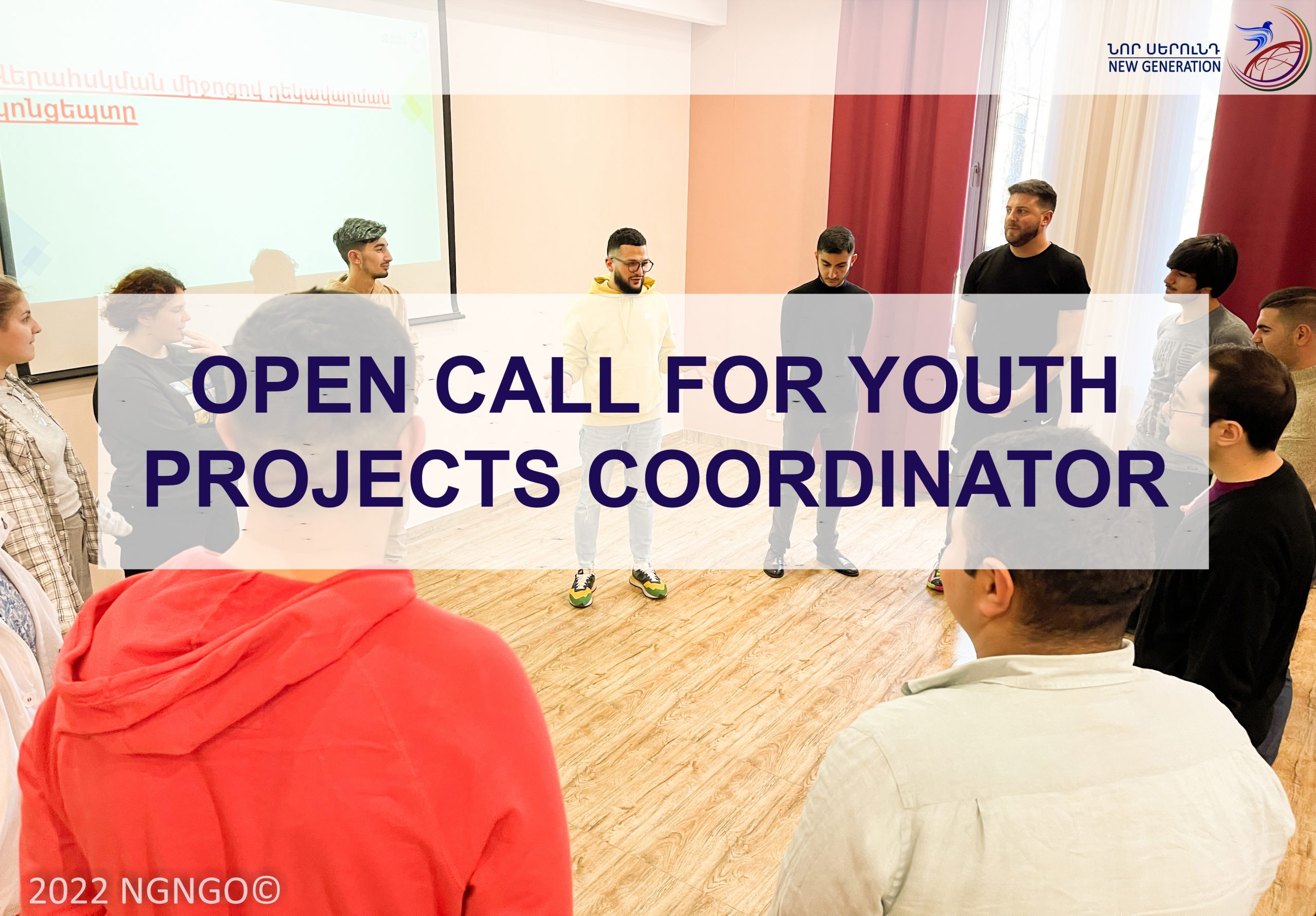 OPEN CALL FOR YOUTH PROJECTS COORDINATOR
New Generation Humanitarian NGO announces an open vacancy for Youth Projects Cordinator. 
Duration– Contractual 
Location – Republic of Armenia, Yerevan 
Job description 
Organize and conduct capacity building courses, workshops, events for youth active groups, 

Organize public meetings, forums, conferences with participation of youth active groups, 

Coordinate the design and implementation of youth programs, 

Organize and coordinate the process of fundraising for youth programs, 

 Organize events for public presentation of project results, 

Organize and conduct youth needs assessment aimed at capacity building and mobilization of young people, 

As a member of the NGNGO team, actively organize and participate in the organization's various meetings, events, initiatives, discussions, including giving feedbacks, response and training in the field, 

Ensure high quality project coordination, communication, written translations from Armenian to English and vice versa. 
Required qualifications and skills 
Work experience in the field of implementation of local and international, in particular, European youth programs coordination, 

Fundraising skills and capacity, 

Ability to learn new things and support new initiatives, 

Ability to establish and maintain relationships with partners, 

Excellent coordination skills, 

Computer skills (MS Office: WORD, EXCEL, PP, e-mail, Internet), 

Excellent knowledge of Armenian and English, working level of Russian, 

Ability of planning and time management, 

Ability to work with a wide range of young people, 

Ability to respond to and manage difficult situations, 

Facilitation and public speaking skills, 

Teamwork skills, 

Willingness to perform other responsibilities and work overtime. 
Salary – Contractual 
Application Procedure – To apply for this vacancy, please complete the following application by June 3, 2022 indicating  in the vacancy field of the application "Youth Projects Coordinator".