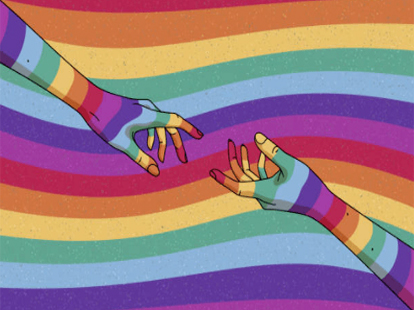 The life of lesbians in Armenia
"In the beginning it's very hard to accept yourself. I used to ask questions to my mother, of course not saying it was about me, and when I heard her negative opinion, I was immediately afraid to continue the conversation," 25-year-old Marie tells about the difficulties of the time when she was 15 and first realized her sexual orientation. Marie is a lesbian.
At the age of 21 Marie's family found out about her sexual orientation and didn't accept it: "Even now my mother thinks that all this is in the past, and I just haven't met a good guy yet."
Marie says that she still can't overcome the problems she has with society, because she has internal fears that do not allow it. "When I find myself in an environment where everyone is homophobic, I can not express myself, but if they ask, I will not lie to them saying that I am not a lesbian."
Marie now lives in a rented apartment with her partner 24-year-old Anush, but due to the risk of losing the house, they again hide their sexual orientation. Anush, in turn, says that it would be risky to tell everyone that they live together because the problems would become inevitable.
Anush is from Gegharkunik region, she has been living in Yerevan since she was 17. During her studies she used to live with another lesbian girl, who according to Anush, helped her in the future in the issue of self-knowledge. "We were just good friends and had no emotional connection, but looking at her from the side I understood that I have the same thoughts." 
Anush says that her family is not aware of her sexual orientation. "I have chosen that strategy, I must hide it from them as much as possible because this is my life and it only concerns me."
Marie says that her rights are not protected in Armenia: "If I have a child with another woman in Armenia, I am afraid that they will take the child away from me".
According to lawyer Shushan Khnkoyan the law doesn't allow same sex couples to  have children. They can not have a child through assisted reproduction because according to the decision of Armenian Government of May 27, 2015, in order to perform assisted reproduction, the spouse or one of the spouses must be a citizen of the Republic of Armenia and the marriage must be registered in the Republic of Armenia. At the same time, Article 35 of the RA Constitution states that marriage is between a woman and a man. Consequently, same-sex marriage cannot be registered as such in Armenia, and in the case of a marriage not fixed by law, the family is not entitled to have a child through assisted reproduction.
The same applies to the adoption procedure. "Homosexual couples are considered legal in Armenia only if their marriage was registered abroad after consular ratification in accordance with the provisions of the law of that country, but in this case, again, same-sex couples can not adopt a child in Armenia due to legal gaps," says the lawyer.
Tatev (name changed by her will) had to stay in the house for 8 months as her parents locked her up when they found out about her sexual orientation. She realized that she was a lesbian at the age of 14. "The boys were not ideologically interesting to me, I could not communicate with them for more than 5 minutes, and it was interesting with the girls."
Tatev tells that it happened so that she fell in love with a girl with  heterosexual orientation: . "In 2018 her mother accidentally saw our chat and called my parents to her house. At that point I already understood what was going on and tried to leave the house but there were people with me who didn't allow it".
Now Tatev is studying and working at the same time. As she says she tries to learn whatever is possible: hairdresser, florist, etc.: "I had problems trying to find a job because of my sexual orientation , because my hair was mostly short and the employers refused to work with me. Then I grew my hair, not to give in, but to have more, I changed the definition of their idea".
Ina (name changed by her will) says that when people find out about the sexual orientation of lesbians, they start to think of them as inferior . "For example, when I tell a man that I like women, they associate it with obscenity and that's when I feel like an object. This is the discrimination for me."
Lawyer Shushan Khnkoyan, speaking about the rights of lesbians, mentions that there are a number of gaps in terms of protection of rights. "Although the Article 29 of the RA Constitution stipulates the prohibition of discrimination, the representatives of the LGBTI community still cannot find protection under it, as there is no provision on the orientation of people. We only have the draft law on ensuring equality, which has been in circulation since 2018 but in terms of protecting vulnerable groups, it  is still flawed. "
 According to the lawyer lesbians in Armenia are subjected to violence and discrimination mainly in their families. "When family members find out about their sexual orientation, they either try to keep them locked up or kick them out of the house."
According to statistics, from January 1 to August 31, 2020, New Generation Humanitarian NGO provided legal advice to 380 people in the LGBTI community, of which 10 cases of violations were registered among lesbians, both in the family and in other surroundings.
Necessary concepts / abbreviations
LGBTI – lesbian, gay, bisexual, transgender, intersex.
Lesbian – a homosexual woman; a woman who has the capacity for romantic, emotional and/or physical attraction to person(s) of the same sex and/or gender
Homophobe – a person having or showing a dislike of or prejudice against homosexual people.
Heterosexual – a person who  has the capacity for romantic, emotional and/or physical attraction to person(s) of the opposite sex and/or gender
Shushanik Miskaryan
The compilation and publication of this material has become possible within the framework of the project on Capacity Building and Empowerment for Protection of LGBTI Human Rights in Armenia implemented by New Generation Humanitarian NGO with the financial support of the Norwegian Helsinki Committee. The contents of this article are the sole responsibility of the author, and do not necessarily reflect the views of New Generation Humanitarian NGO or the Norwegian Helsinki Committee.