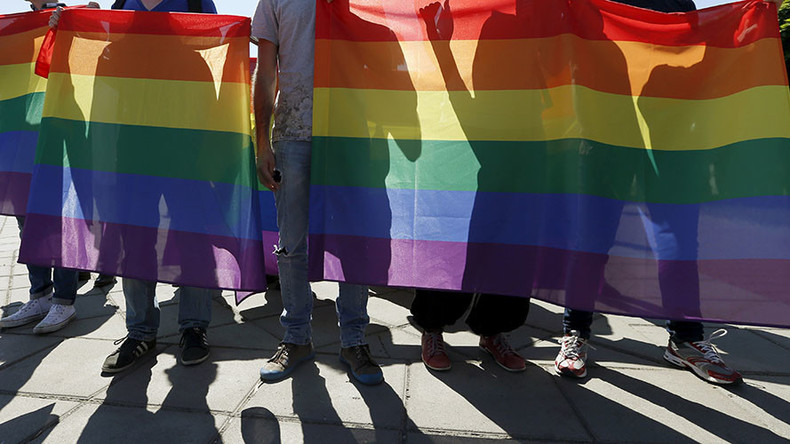 THE LIFE OF GAY PEOPLE IN ARMENIA. PART 4.
Read the third part here
Depending on different parts of the country and even the city, the scope of people's attitudes towards this or that topic partially changes. 
Karen (the name has been changed by his request) is coming to Yerevan from Gyumri on a train. He went to visit his friend, but things took a different turn there. 
Karen tells about what happened: 
"We were hanging out in a non-central part of the city. It was probably our clothes that were unusual for them, when a man approached us and started insulting: he was cursing and accusing us of bringing bad things to Gyumri. We decided to just leave but he kept on chasing us and threatening that he would tell everyone who we were and that if he hadn't met an acquaintance of his, he would come after us. We told my friend's parents about this so they wouldn't believe it when they heard it, but I am very worried about him now."
As for living in Armenia in general, he feels comfortable here, even though, in his words, it may be because of living in the center of Yerevan and he does not rule out that it is not as easy for other members of the LGBT community living in more suburban areas. 
"Nevertheless, I see progress: the fact that what happened in Gyumri is less likely to happen in Yerevan nowadays already shows some change", Karen says.


19-year-old Sargis' case can be considered unique. He is a pianist-composer, has graduated from the Musical College after Romanos Melikyan and has conducted private classes ever since being a student. To the question if his students would still take his classes if they knew he was homosexual, he, after thinking for a few seconds, replies "definitely not". 
Sargis never had problems because of his sexual orientation either in college or anywhere else. In his words, everyone knew him there as an amazing musician, but a less sociable person. 
"I did not say that I was gay in college, but I also did not hide it. In fact, people have a slightly different attitude among artists, and that is very good. But if anything, I had very good friends there who would definitely be by my side in any case, and the vast majority of them were heterosexual", he says. 
Before talking to the family, Sargis prepared his parents for that news for a long time and he, in his turn, prepared to be kicked out of the house, but received a shocking slap in the face instead.
"I said it and I asked my mom 'are you not going to kick me out of the house now?' but my mom slapped me as if 'what are you talking about? You are our son and you should stay with us.' You can't imagine how good it feels when you have your parent's support and trust. I am sure that if my mother knew someone was kicked out of the house because of being gay, she would tell them to come and live with us", Sargis says.
As for his future life, he is sure that he will never go anywhere else. His homeland is Armenia, and he urges others to stay here too, to make their voices heard and to show that they exist. "And I did not join the army just because my security could not be ensured, otherwise this is my homeland, for the protection of which I do not avoid serving in the army at all", Sargis says.
However different the presented stories may seem, their commonalities are obvious, and their demand is not to discriminate against people based on any trait, not to push anyone to isolate and feel incomplete, but to encourage each other to be free, to act courageously and to realize that no manifestation of discrimination leads to anything good, instead it divides and disintegrates the society.
In the words of Anahit Mkrtchyan, the lawyer of the New Generation Humanitarian NGO, it is noteworthy that there is no comprehensive anti-discrimination legislation in Armenia yet. And although the RA Constitution and several legal acts partially prohibit discrimination, there is neither the definition of "discrimination", nor any legal mechanisms to protect against it. 
"In this case, those who have been discriminated against based on their sexual orientation and gender identity are left to apply to the court by the method of protection of the civil law for insult and defamation, or, if there is violence or physical injury, to the police to start a criminal case. However, in all these cases, the existence of discrimination will not be addressed, as there are no legal regulations that will be referred to by law enforcement authorities", Anahit Mkrtchyan says and adds that the adoption of already existing draft law on "Ensuring Equality" will provide new opportunities in the process of preventing discrimination. 
THE END
Rima Grigoryan
The compilation and publication of this material has become possible within the framework of the project on Capacity Building and Empowerment for Protection of LGBTI Human Rights in Armenia implemented by New Generation Humanitarian NGO with the financial support of the Norwegian Helsinki Committee. The contents of this article are the sole responsibility of the author, and do not necessarily reflect the views of New Generation Humanitarian NGO or the Norwegian Helsinki Committee.