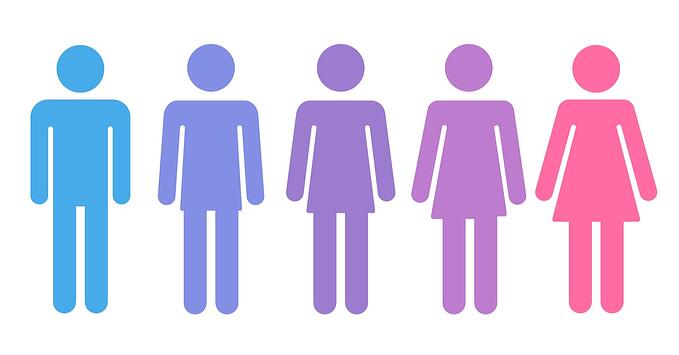 The Problem of Gender Affirmation in Armenia
They say nature never makes mistakes, each person should adapt to the physique they have received. Some people are born with, for example, respiratory problems that the medicine is able to solve. It is, of course, encouraged by the society, after all, breathing is vital for the normal functioning of the body, but what will the same people say about the infallibility of the same nature, when it turns out that it has failed, for example, when assigning gender? Of course, we will hear that it's wrong to go against nature but what if we think better?
It's a fact that each of us needs socialization from an early age but how is it expressed? The child tries to get the parent's favor in every situation, especially by imitating the parent's behavior. However, there are children that are different since childhood. An attentive parent, of course, notices but not always accepts it. Usually, those persons themselves speak about it in late or early adolescence.
We are talking about Trans * people. People who are not at peace with their bodies but have to live like that for many years, and often even for all their lives. Modern science has found a solution to this problem as well, the person can have gender affirming surgery but everything is not that easy.
Unfortunately, applying for gender affirming surgery is a very big problem in Armenia.
By international experience, if a person discovers that their gender is different from their sex assigned at birth, they should first turn to a psychologist, and then to the appropriate doctors, who can perform the complex and risky gender affirming surgery.       The whole process takes years in order not to harm the mental and physical health of the person. But the reality in Armenia is different. The trans * person cannot apply for resolution of the issue troubling them, as there are no legal regulations in this field, therefore there are no qualified specialists to take care of this issue. Even in the case of a simple nose job, the patient is prepared mentally and physically, and if there is a slight risk that the result will not meet expectations in the future, many doctors postpone the operation.
All this is done only for a cosmetic surgery while gender affirming surgery is a rather complicated process, on which the person's future full life depends. Unfortunately, Armenia does not even think about the solution to this problem, as it ignores even the existence of the problem and here the trans* people cannot legally undergo gender affirming procedures, the reason for which is the legislative regulations, this leads to the fact that the surgeries are performed secretly or abroad. However, not all of them can afford to have surgery abroad, as it requires a lot of money.
So, why does the problem of gender reassignment not get proper solutions in Armenia? We talked about this issue with transgender woman Monica Sarkisyan, who completed a series of gender affirming surgeries in March 2020, with Marine Stepanyan (name changed at her will), a transgender woman who wants to have a gender affirming surgery and with lawyer Anahit Mkrtchyan.
Differences from the accepted norms appear in the person mostly since childhood. At an early age, a child has no idea what is happening to him when his interests do not match the interests of the people of his gender. And the parents, as the bearers of the public opinion, become the "victims of shame" and try to correct that "mistake" as soon as possible. Seeing no other way, they begin to put pressure on the fragile psychology of the child.
Both Monica and Marine mention that they have felt like strangers in their own bodies since they were children and they both started thinking about changing their sex at the age of 17-18. And when they tried to talk about their gender identity at home, both of them were thrown out of the house as a result.
This is the first problem that a transgender person faces alone. Later the problems only increase.
Monica started taking contraceptives containing female hormones at the age of 18. "There is no endocrinologist in Armenia that would specialize on the issues of Trans * people. We cannot take hormones specifically for Trans* people, because they simply do not exist in Armenia. "And the doctor, prescribing substitute drugs, does not bear any legal responsibility," she says.
Defense lawyer Anahit Mkrtchyan confirms this, adding that there is no evidence in medical institutions that Trans * people take such drugs, therefore they are deprived of further protection, although a reference can be made to the other rights of a person under the Constitution. Speaking about this issue, transgender woman Marine notes "I have never taken those drugs because I value my health. It's like a self-harm for me․ Yes; I want to be a woman, but a healthy one! "
Let's say, a person undergoing a "hormone therapy" wants to have gender affirming surgery as well. Anahit Mkrtchyan says that there is a ban on gender affirming procedures in Armenia and adds that the RA Civil Registry Office states that changes regarding gender can be made in the birth certificate․ "That is, they envisage that such thing may happen, but there is also a constitutional ban." Are these double standards or omissions based on the invisibility of Trans * people? In this context, Marine also adds that the state accepts the views of the World Health Organization on everything except the recommendations on the health of Trans* people.
Steps are taken by NGOs dealing with the protection of the rights of vulnerable groups for the solution to this issue. Anahit Mkrtchyan mentions that New Generation Humanitarian NGO has developed a draft law on the Legal Recognition of a person's gender identity. Shushan Khnkoyan, lawyer of New Generation Humanitarian NGO, adds that the draft law was sent to the RA Ministries of Health and of Justice to provide a relevant professional conclusion. The NGO received an answer from the RA Ministry of Health, according to which the law draft cannot subject to discussion. The Ministry of Justice informed that the draft law may be discussed by the ministry in the context of relevant legislative changes.
As a result, we have what we have. Steps are taken to change the situation; however they don't even receive attention. But can any of us state for sure that one day we won't experience first hand this problem and its consequences proceeding from it? Never Say Never.
Saty Avagyan
The compilation and publication of this material has become possible within the framework of the project on Capacity Building and Empowerment for Protection of LGBTI Human Rights in Armenia implemented by New Generation Humanitarian NGO with the financial support of the Norwegian Helsinki Committee. The contents of this article are the sole responsibility of the author, and do not necessarily reflect the views of New Generation Humanitarian NGO or the Norwegian Helsinki Committee.