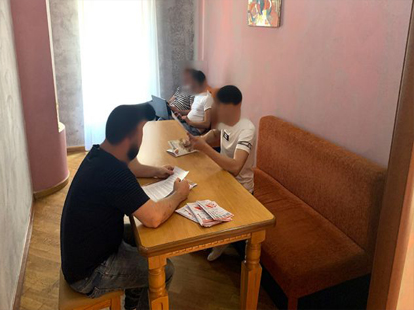 A safe space for key populations in Armenia
Arpi Hakobyan (not her real name), a former sex worker, lost her income after the COVID-19 pandemic hit Armenia. And then her parents threw her out of their home and took her passport. She had no place to go and no one to ask for help, until a friend advised her to contact the New Generation nongovernmental organization.
Opened by the New Generation in June 2020 in the centre of Yerevan, the capital of Armenia, the Safe Space occupies a three-storey building that gives people living with HIV, members of key populations and women who have suffered from domestic violence a safe refuge.
"When the COVID-19 pandemic began, we started receiving calls from people who, because of their belonging to key populations or because they were HIV-positive, were discriminated against, found themselves without work, without support, sometimes without a home," said Sergey Gabrielian, the head of the organization. "It is widely believed in our society that it is these groups that spread not only HIV but also COVID-19, which is why they are expelled from work or from society. These people have nowhere to get help from—they are not on any lists of recipients of government social assistance programmes."
The Safe Space gave Ms Hakobyan a place in the shelter. The New Generation's lawyer and psychologist reached out to her, helped to replace her documents and found her a job.
Referrals are made to the shelter by HIV service and human rights organizations across the country. Administrators, lawyers, psychologists and volunteers are on duty 24 hours a day. For the first three days, psychologists and lawyers work with the clients to find out their circumstances, help with documentation and understand how to proceed further. The average stay in the shelter is 15 days, with the maximum being a month.
"Of course, we are not a hotel, this small programme is not designed to support people for several months—there only 37 people who can be simultaneously in the shelter. And the demand for it is enormous," said Mr Gabrielian.
A key feature of the shelter is a special HIV services room in which people can take an HIV test and get counselling and a referral to an HIV clinic. People who use drugs and need harm reduction services are referred to a nearby organization where such services can be obtained.
Mr Gabrielian said that when it became obvious that the fight against COVID-19 could hit the HIV epidemic hard, the New Generation's employees decided to switch to a new way of providing HIV services—online consultations, the provision of tests and prevention materials by mail and the use of outreach workers.
"We insisted that programmes for key populations should not be stopped because of the coronavirus, otherwise, with the end of one pandemic, we will see an outbreak of the AIDS pandemic," he said.
Today, the Safe Space project is supported by the Elton John Foundation, with support also from the Swedish Government. Negotiations are under way with the Global Fund to Fight AIDS, Tuberculosis and Malaria and UNAIDS on the future of the service.
"The coronavirus made us understand what new ideas could be included in the HIV service programme. It was these special circumstances that made us move on and look for new ways to support people in times of crisis," said Mr Gabrielian.
The source of the material: by the following link.