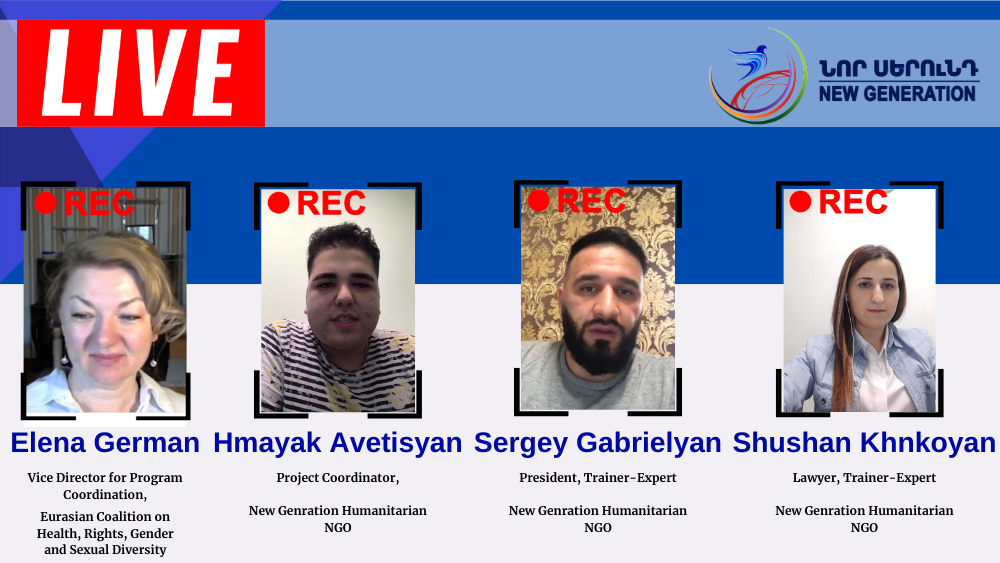 ONLINE TRAINING – PROMOTING ACTIVE PARTICIPATION OF MSM AND TRANS* PEOPLE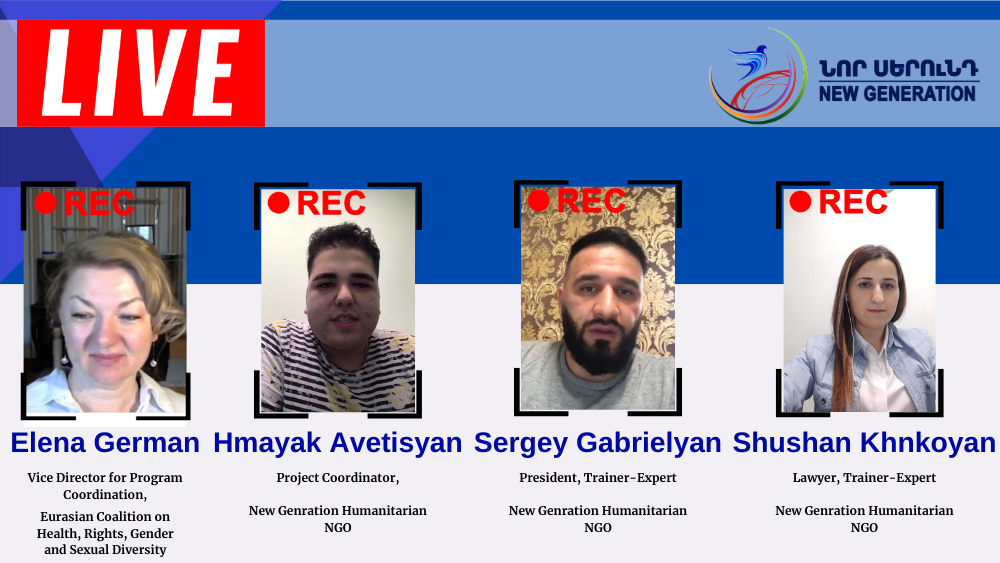 New Generation Humanitarian NGO (NGNGO) has launched Promoting Active Participation of KPs for Leadership and Development project. The goal of the project is to foster the participation of key populations of Armenia in the processes of budget advocacy. The beneficiaries of the project are MSM and trans* people, women living with HIV and people who use drugs.
On May 18, 2020, the first online training took place among MSM and trans* activists. The training was aimed at raising awareness among community activists and developing leadership so that they can further engage in budget advocacy. The participants of the training will be invited to the main training on Budget Advocacy in the future.
Project coordinator Hmayak Avetisyan made an opening speech in the beginning of the course presented the project, the goal of the project, the beneficiary and target groups, as well as the project actions.
Elena German, the Vice Director for Program Coordination of the Eurasian Coalition on Health, Rights, Gender and Sexual Diversity (ECOM), delivered the opening speech.
Welcoming the participants, the latter first thanked for starting the trainings in such a format and for organization of unification events for the communities, then presented the works envisaged by the project, the obstacles caused by COVID-19, expressed hope that she would soon be able to meet with the community representatives in Yerevan.
After the welcoming speeches, Sergey Gabrielyan, the president of NGNGO, presented to the participants the topic of HIV and the importance of testing. The trainer-expert spoke about the HIV infection, the ways of transmission, the ways of HIV testing, as well as the successful experience of other countries in the field of HIV.
The second part of the course was dedicated to HIV and the RA legislation on the topic. Shushan Khnkoyan, the lawyer of NGNGO, presented the topic in all its components, touched upon the powers of the state, the rights of people living with HIV, HIV and AIDS prevention services and the issue of financing.
The online training took place in a warm atmosphere, with participants having the opportunity to ask questions through comments and receive full answers, as well as express their willingness to be part of the budget advocacy processes in Armenia.