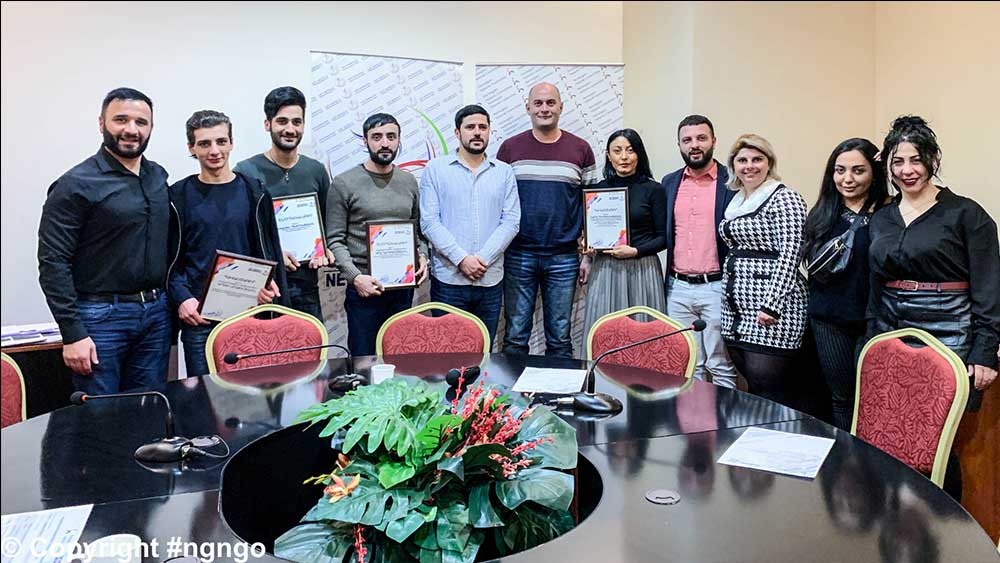 LEADING HUMAN RIGHTS ACTIVISTS' AND DEFENDERS' AND MASS MEDIA AWARD 2019
On December 28, 2019 Leading Human Rights Activists' and Defenders' and Mass
Media Awarding ceremony took place with participation of NGNGO stuff, Human
Rights defenders, activists, individuals and NGO representatives, journalists.
Sergey Gabrielyan, President of New Generation Humanitarian NGO opened the
meeting with a welcoming speech. He thanked all the present guests for their
attendance and he also extended his gratitude to the human rights activists, defenders
and journalists covering the issues of vulnerable groups of the society for their brave
activity.
New Generation Humanitarian NGO Projects Coordinator Alina Mirzoyan mentioned
that New Generation Humanitarian NGO has been implementing the project Capacity
Building and Empowerment for Protection of Human Rights of LGBTI people in Armenia
since 2014. Within the framework of this project Annual Best Media Material and Human
Rights Defenders' Awarding Ceremony is held to encourage and award the journalists
and Human Rights Defenders and Activists engaged in the protection and promotion of
LGBTI issues.
Alina Mirzoyan presented Nora Petrosyan's human rights activist's and advocacy
activity,  one of the nominated Leading HRD activists for constantly raising the visibility
of trans people and advocating for their integration into the society as full and equal
members. At that moment Nora was out of country that's why she wasn't able to attend
the meeting but her certificate will be handed to her as soon as she returns.
Hovhannes Madoyan, President of Non- Discrimination and Equality Coalition NGO,
presented  the other nominated trans activist Lilit Martirosyan's Human Rights
defending activity by emphasizing her speech at the National Assembly.
NGNGO financial Manager Arman Sahakyan presented defense-lawyer Ara
Gharagyozyan's Human Rights defending activity who apart from his professional duties
always stands for the rights of vulnerable groups of the society and fights for their right
to be free from discrimination and violence. Arman Sahakyan thanked him for his
activity and handed him the certificate of gratitude.
Arman Gharibyan, co-founder of Human Rights Power NGO presented activist Artak
Arakelyan's Human Rights Defending activity. Arman Gharibyan stressed the
importance of encouraging beginner activists and handed him the award and the
certificate of gratitude.
New Generation Humanitarian NGO Financial Manager Arman Sahakyan introduced
the journalistic works of Nare Hovhannisyan – "The term homosexual is a lifelong
stigma in the criminal world. Issues of LGBT Prisoners in Armenian prisons" and
Samvel Petrosyan – "The Different", nominated in NGNGO Media Contest. After the
presentation Arman Sahakyan handed the award and certificate to the winner of the
contest Nare Hovhannisyan. The other nominated participant received a certificate of
participation in the contest.
After the awards were handed Arman Gharibyan conducted a thematic discussion on
the Human Rights Situation in Armenia, during which an active discussion was held
between the nominated human rights defenders and activists and journalists, experts
and other guests of the event about their work, the road they have passed, pressures
and discrimination they face and how they overcome them.
The discussion was very moving and inspiring.